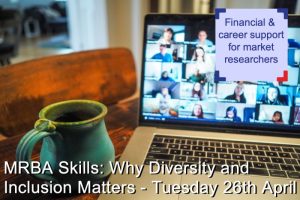 On 26th April, the MRBA Skills initiative proudly ran our second webinar, 'Why Diversity and Inclusivity Matters', organised and chaired by our spokesperson Ginny Monk. As Ginny said herself, "our industry lacks a significant number of diverse role models, where people can be mentors for younger people." The lack of representation is exactly why we hosted this webinar. We wanted to understand why diversity and inclusivity matters, what happens in those echo chambers where it doesn't exist, and what the benefits are of a diverse and inclusive workforce.
The hour-long chat featured panellists Sinead Hasson of Hasson Associates, Monique Choudhuri of Versify Consultants, Shazia Ginai of Neuro-Insight and Colour of Research, Sabrina Trinquetel of Measure Protocol, MRS Pride Co-Chair and DI&E council member for the MRS, and Andė Milinytė of Opinium. Together this diverse group of women spoke about and discussed the need for diversity and inclusion in the Market Research industry.
From questioning the diversity of your work team to what YOU can do to increase inclusivity. We explore the need for equity in workplaces, how to be an ally, and what it means to be a woman in a male-dominated industry. This webinar is packed full of important information and key learnings to increase your awareness of the importance of diversity, inclusivity, and equity in the insights industry.
Watch the Skills Webinar  video to learn all about the need for Why Diversity and Inclusivity Matters.
Following are some useful links and sources our webinar panel mentioned or referenced:
Links from Sabrina (Measure Protocol & MRS Council)
Links from Ginny (Motif & MRBA)
Links from Andė (Opinium)