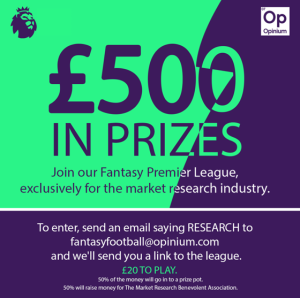 Greetings sports fans
Opinium are delighted to announce that we will be launching The Market Research Fantasy Football League ahead of the 2022/23 Premier League season.
Cash prizes will be as follows:
1st place: £300

2nd place: £150

3rd place: £75

Post-Christmas leader: £75
The entry fee is £20 (£10 to MRBA and £10 to the prize pot), payment details are below.
There will be regular round-ups, packed full of football and research puns, and an update on the League leader board. Please do share your email with FantasyFootball@opinium.com to receive the newsletter.
To sign up, click here or search for The Market Research Fantasy Football League on the Official Premier League competition and use the code 2xp6ri.
The first game of the season is on the 5 August, so please do get your team registered soon.
Please pay £20 to the following account, using Market Research FPL as a reference:
Account name: Opinium Research LLP
Sort Code: 05-04-70
Account Number: 61389279