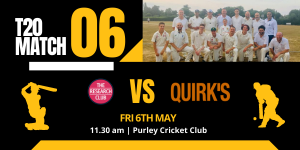 Both men & women are invited to take part in this fun match, all standards welcome! We also invite you to come and watch if you can't take part as a player.
Players – £25 fee per player and includes: £10 match fee, use of sports club players room facilities, £15 for tea/coffee on arrival, with a sumptuous hot & cold buffet after the game.
Spectators/guests – free to come and watch.  If you would like to have tea & coffee on arrival and also hot/cold buffet after the game with the players there will be a £15 charge.
Players: Please do bring your playing kit with you.
All profits will be donated to the MRBA.
Players and Spectators/Guests please Sign up here!